Silicon Carbide Heat Exchanger, Standard Type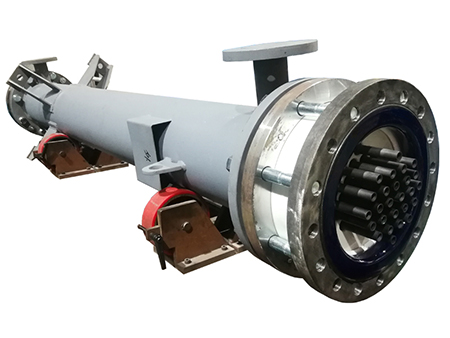 Our standard type silicon carbide (SiC) shell and tube heat exchanger is made of corrosion resistant tube plates and SiC tubes. Due to the utilization of silicon carbide tubes, this SiC heat exchanger is a perfect solution adapted to heating, cooling, and condensation of highly corrosive chemicals.
Typical Applications
Bromine, Sulfuric Acid, Hydrofluoric Acid, Nitric Acid, Hydrochloric Acid, etc.;
Alkalis;
Halogenated Compounds;
Salt Solutions;
Organic Compounds;
Technical Data
Each tube is subjected to test at pressure of 185 Bar before installation;
Shell diameter range: DN100 to DN600;
Standard length of tube: 1000 to 3000mm;
Heat exchange area: 1 to 60m2;
Tube diameter: 14mm, 19mm;
Horizontal or vertical installation;
Temperature range: -19°C to 100°C;
Pressure range: -0.1MPa to 0.3MPa;
CE, ATEX, FDA compliant
Comparison Chart of Thermal Conductivity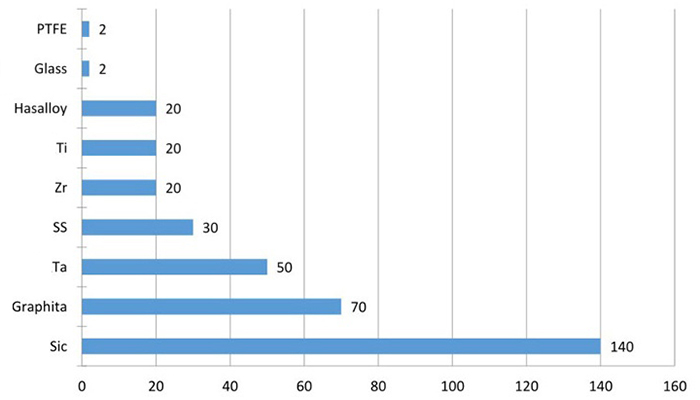 Qianqiao is an expert company specialized in manufacturing and providing chemical process equipment and glass lined equipment. We offer a full range of products and services for glass lined chemical processing equipment including piping systems, chemical reactors, industrial valves, heat exchangers and other glass lined steel equipment in chemical process industry. As a trustworthy glass lined equipment supplier, Qianqiao has over 40 years experience in glass-lined steel industry, and we pride ourselves in our expertise in chemical industry. Our entire team is committed to meeting customers' application needs in a wide range of chemical processes.